Could the Lincoln Airport become a major cargo hub?
A Colorado company is optimistic that it can, so much so that it plans to invest tens of millions of dollars to make that happen.
The Lincoln Airport Authority on Thursday approved an agreement with Burrell Aviation of Aspen, Colorado, that gives the company the right to develop about 30 acres of property on the west side of the airport with the aim of transforming it into a hub for air cargo and other aviation-related industries.
The agreement includes a 30-year ground lease with options that could extend it to as long as 50 years. The lease allows Burrell to build on airport property at the south end of what's called the west ramp.
Burrell CEO John Carver said the estimated $65 million investment, which does not include the cost of the ground lease with the Airport Authority, will occur over several years.
Carver said the company plans to focus on three industries as it seeks to boost the airport's non-aviation operations: air cargo handling, cold storage and distribution.
That could mean attracting air freight companies, logistics firms, food businesses and aircraft maintenance providers.
"I think we'll find the interest here to be pretty robust," Carver said.
Facilities would be built in phases, with two or three large buildings likely. Burrell is proposing up to 210,000 square feet of space. Carver said he believes the first tenants could occupy spaces as soon as 2025. At full build-out, he estimated the development could add anywhere from 180-350 permanent jobs with salaries averaging $60,000-$80,000 a year.
The Lincoln Airport is one of about 20 Burrell is working with across the country, from Alaska to New England. Most of them are in smaller cities like Lincoln.
The company has already announced plans for similar developments at airports in Albuquerque, New Mexico; Baton Rouge, Louisiana; and Colorado Springs, Colorado.
Carver said Burrell looked at the more than 5,000 commercial airports in the US and used a filtering process to whittle it down to a few dozen he hoped to work with.
Among the things it looked for as it seeks to take advantage of the need to serve the growing e-commerce industry was proximity to large cities, a good highway network and an airport administration that has a forward-thinking approach.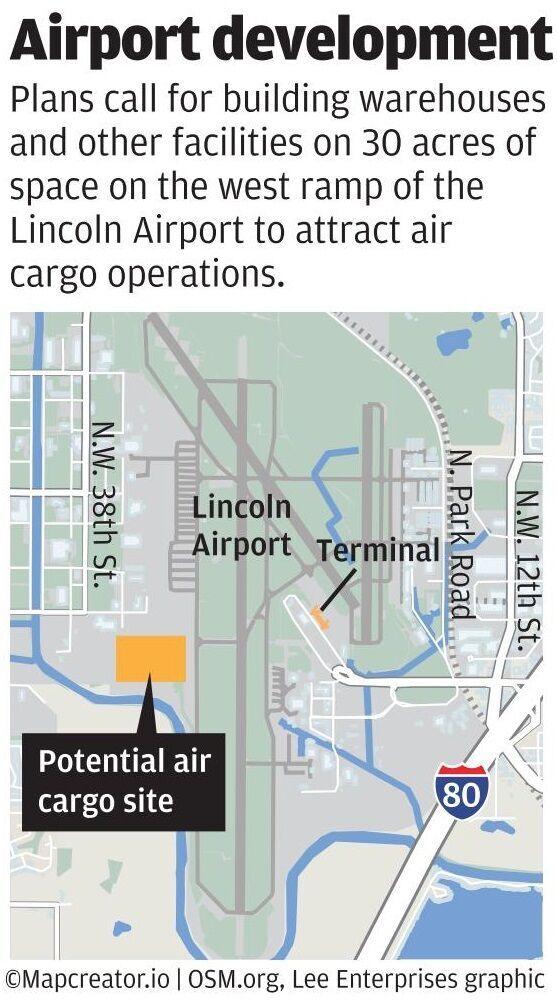 Lincoln, Carver said, "checked all of those boxes."
"The Lincoln Airport is an ideal location to add to our portfolio," he said. "It provides a strategic presence in the heartland of America, with an airport that is accessible to other major transportation modes such as interstates and rail lines."
Lincoln Airport Executive Director David Haring said the agreement has nothing but upside for the airport. It gets rent from the ground lease and will eventually own any structures Burrell builds once the lease term expires.
"This is kind of an easy deal for the airport," Haring said. "The heavy lifting is being done by Burrell."
"I'm really excited not just for the airport but for the community and all of Southeast Nebraska," he said.
Local and state leaders had nothing but praise for the deal.
"Landing this opportunity prepares Lincoln for yet another economic takeoff," Mayor Leirion Gaylor Baird said in a statement. "We're proud that Burrell Aviation identified our community as the location for the next project and look forward to supporting their exciting development at the Lincoln Airport.
Nebraska Gov.-elect Jim Pillen, who was to take office on Thursday, called the Burrell proposal, "another example of business stepping up and investing in the future of Nebraska."
"I am excited about this opportunity and the growth it will bring to Lincoln," he said in a statement.
Lincoln Airport's new Houston flight packed on first day
Lincoln Airport terminal project faces delays
While the Lincoln Airport took a big hit during the coronavirus pandemic, losing more than half its passenger traffic and one of its two airlines, it has been making strides over the past couple of years, especially when it comes to improving its infrastructure.
The airport is in the midst of a $55 million terminal expansion and renovation project, the first phase of which it hopes to have done this spring. That first phase will add gates, consolidate passenger screening and add new amenities.
The airport also, likely in the next two or three years, will start a project to rebuild its main runway, which is one of the longest at any commercial airport in the US
Thanks to an agreement brokered by Sen. Deb Fischer, the National Guard Bureau has agreed to chip in to help pay to keep the runway at nearly 13,000 feet long, which is important because the Federal Aviation Administration, which covers 90% of the cost of most airport capital improvements, has said it probably wouldn't pay to rebuild a runway of that length.
The length of Lincoln's runway was apparently a factor that Burrell considered in whether to invest here, a point that Fischer highlighted in a statement.
"Thanks in part to my work to secure funding for the rehabilitation of the Lincoln Airport runway, one of the world's leading cargo carriers and logistics companies is now coming to Nebraska," she said.
Blue Angels come to Lincoln to start planning 2023 air show
Offutt plans getting ready to leave Lincoln for good
The first state-licensed in Nebraska opened in Lincoln in September, and this story examined the potential tax money it could generate.
After losing Delta Airlines, Lincoln Airport officials discussed how they would need to change their focus from business to leisure travel.
Housing boomed in Lincoln this year, especially downtown. Plans for a 22-story building would be one of the biggest projects in history.
The COVID-19 pandemic has led to many changes in health care in Nebraska, one of which is the increased use of telehealth.
This story from April talked about how bad drought could get in Nebraska. News flash: It got pretty bad.
.